At Jostle, we're always figuring out ways to help as many organizations as we can. When the pandemic first hit, most companies were scrambling to figure out what to do… including us.
Our saving grace was relying on our own employee intranet product, which made the forced switch to remote work relatively painless. Naturally, we saw an uptick in product usage across our customer base as people were finding a way to communicate effortlessly and quickly without spamming everyone with emails every few minutes. Many of our customers, especially those in essential work and the healthcare industry, added lots of employees to their Jostle intranet to virtually communicate with their entire organization.  
We've seen how much our product can help companies connect, especially when they're remote, and we want other companies to experience it too.
So here's the real game-changer: your organization can now easily experience Jostle. And it's free.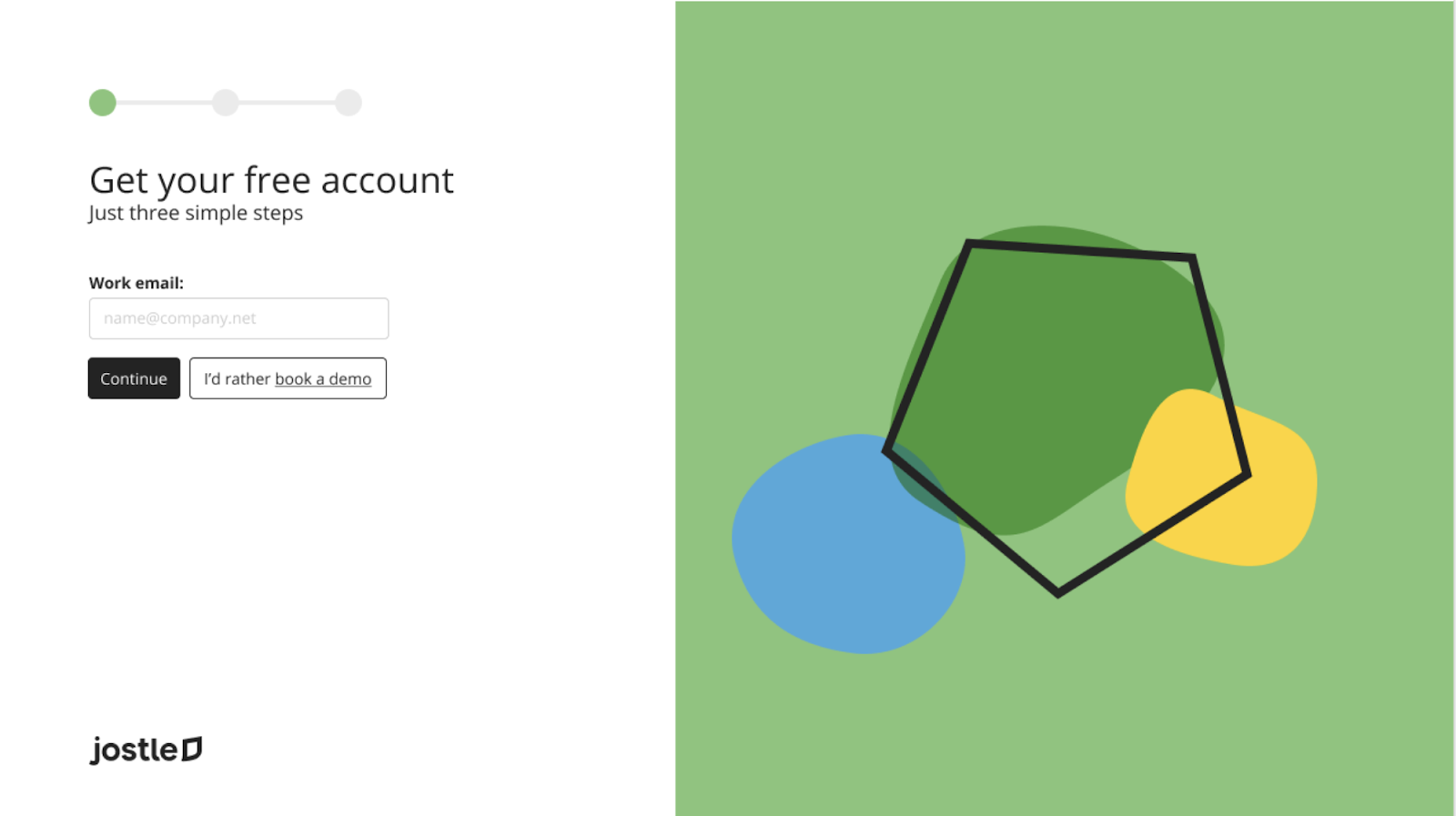 For the first time, you can get started with your own Jostle intranet for free. Now's your chance if you were ever curious about an intranet or how Jostle will work for your people. You don't even need to talk to a salesperson; just set up an account and experience Jostle. It's as straightforward as it gets. 
Here's a quick FAQ (and if you still have questions, reach out to info@jostle.me):
Organizations have been pivoting to remote work since March. And after several months, we don't see that reversing anytime soon. This changed world of work is here to stay.
We realized that our product became more important than ever for many organizations, so much that it became the online representation of their office. We're in a unique position where we can step up to support our customers and those who need us now and into the future.
As the Jostlers strive to make a platform that's easy to use, we want you to be able to dive right in and use it. Don't want to hop on a sales call? You don't have to. Simply use our product and see the results firsthand.
We totally understand how hard it can be to adapt to new tech, especially if it's entirely new for your organization or you don't have an existing budget for remote work software. That's why this offer will showcase Jostle's easy to use platform.
Your intranet should be the place where everyone connects, communicates, and aligns.
We're so confident in our product that we're letting you use our intranet free of charge! The reason we're able to do this is that our product is turnkey. Meaning no custom coding or building, and no complex onboarding. You get to have your intranet right out of the box quickly without going through months of building something custom for your organization. We've got you covered; save the time and effort for your people to work on something else!
Who's this free version for?
Our free accounts are available for any organization looking for a go-to place where everyone at work connects, communicates, and aligns. Think of it as a virtual HQ for the time being… or perhaps forever. Larger companies can also use free accounts as a trial before they commit to certain powerups in our paid programs.
More and more leaders realize they need to step up and catalyze more connected ways of working together. We've heard demands for a solution to make it easy for people to help each other no matter their location, role, or department. And our technology does just that, sustaining a unified and vibrant culture.
We've also noticed that smaller companies are underserved in the intranet space. These are the organizations that need an easy to use go-to solution instead of cobbling together a bunch of different platforms. We want to support them too.
What's the catch?
There's no catch! Once you're engaged in a free account, your intranet can support up to 15 employees. Your account will come with the core functions of News, Activity, People, and Discussions. You can also enjoy Jostle's versatile mobile app that allows you to connect everyone on-the-go, no matter where they are.
Use our free version for as long as you like—you can also try a variety of our premium powerups, including custom branding, Library, Events, and more for 30 days.
Need extra seats to roll out to your entire organization? Found a paid feature you really like? Know that you're ready to commit to a more extensive plan? Simply speak with our team to upgrade anytime. No implementation fees and onboarding is free.
How do I start?
You can just click a button and get going. We're here to make intranets simple. Getting started should be simple, too.
Play with branding, or use News as a tailored bulletin board for your organization. We've built an in-app guide to walk you through the basic setup, and our intuitive platform lets you experiment with different functions and features.
Interested in our integration partners or need help along the way? Our support center and customer support reps are always available when you need them.
Over to you
Jostle is easy to use, but don't take our word for it. See for yourself.
The value of Jostle goes far beyond internal communication but also culture building, recognition, and engagement. And we're here to guide you through making the most out of your free account.
TL;DR: Want to try Jostle? Press the button and enjoy the journey. Ask lots of questions; you can upgrade anytime if it's the right fit.