I've got mixed feelings about remote work, and the current reality of the world means that we're talking about staying at home, not cafe-hopping or being a digital nomad. Working from home offers flexibility, but it can be super distracting with all the aspects of personal life. There's the temptation of our beds, needy pets, and of course children and other family members.
Many of us have reluctantly seen our dark basements turn into an office over the past few months. Typing away from our kitchens and getting back pain from sitting on the couch has become a norm of some sort, hasn't it?
My partner is sick of escaping to the bedroom when we have simultaneous meetings almost every day. Thanks to this indefinite WFH arrangement, we're looking for a new apartment to up our quality of life. And it just so happened that four of my other teammates are moving this month as well! So while we're at it, let's take a look at some great tips on creating a productive home office for the next little while.
What puts you in a productive mood and inspires you? Whether you're geared towards minimalistic decor or a vibrant, colorful environment, working from home is a lifestyle that emphasizes true balance. It's all about sustaining your productivity throughout the day, and being able to rest after you've "left work". Too relaxing and you might find yourself dozing off. But you also don't want it to turn your home into a place symbolic of stress and rules.
Ambiance: Set the tone for deep focus. Depending on your style, you may want to put on some non-lyrical background music, like my fail-proof lo-fi hip hop playlist.
Plants: Flowers and other plants add a boost of liveliness to your environment. They don't just look cute and enhance your mood! Plants also give off oxygen and filter the toxins in the air. Succulents are a versatile and low maintenance option if you're a serial plant killer like me.
2. Respect boundaries (both physical and psychological)
Physically separating where you relax versus where you work helps you get into the right frame of mind.
Drawing that line between leisure and business is much more clear when you have a commute and all that, but it's important to have at least some degree of separation. That way you can walk into the living room for lunch and actually take your mind off work. I'm guilty of this, but try not to make an office out of your couch or places that are associated with leisure time.
Dedicating a space for work almost flips a switch on, creating a distinction in your brain so you can focus.
3. Equip yourself
At Jostle, we just received a wellness bonus to spend on any personal office equipment and I asked fellow coworkers what they used that on.
A new office chair is definitely the no-brainer to sustain hours of prolonged sitting. Many chose to purchase monitors and standing desks to alleviate bad posture…plus it helps with the weight gain, am I right?
Here's a helpful infographic shared by Jostler Gabriel on proper desk ergonomics: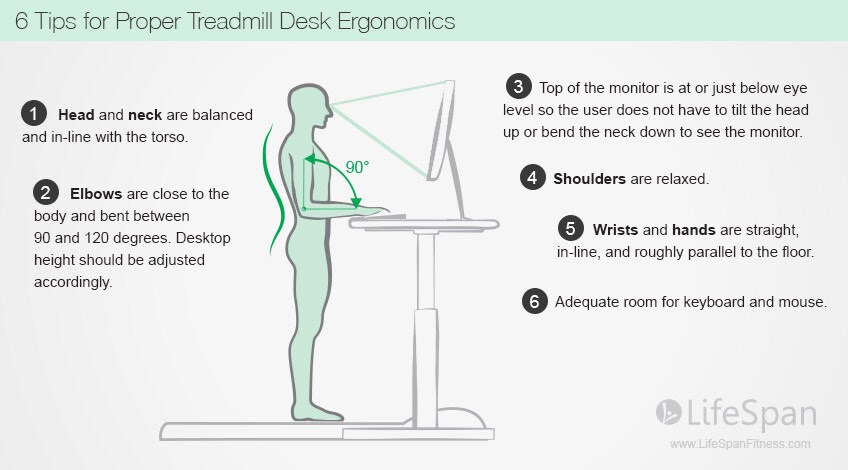 Personally, I'm splurging on a new mechanical keyboard. Why does that matter? Aside from the utmost satisfaction from the tactile feedback, a great keyboard eliminates wrist pain and fatigue. Designers might invest heavily in an ergonomic mouse.
Additional equipment you might want to consider are blue light glasses to address prolonged screen time, and I also find having a whiteboard super useful to write down task lists and collect my thoughts while brainstorming.
4. Privacy and managing distractions
There are a multitude of distractions and temptations at home, taking away focus from all the tasks at hand. This aspect of the home office is a huge consideration, one I'm sure many of us have experienced. It's especially difficult when you live with a significant other or kids.
The most straightforward advice is to choose a section of your home that's the quietest. These tend to be the corners with the least amount of traffic, meaning fewer distractions in the form of passerby footsteps.
Take note of these useful tips from our UI Developer Glen on managing partners:
Invest in a pair of noise-canceling headphones. *Very important!*
Try and stagger your meetings for one side of the day or the other so each of you can alternate. If that's not possible, set up a secondary office in a different space. You can purchase a narrow desk to set up in your bedroom temporarily when simultaneous meetings happen.
5. Connection and optimizing video calls
Video calls are surely one of the more challenging yet significant parts of remote work. So consider these things to make sure your communication is smooth as can be:
Camera quality: Our face-to-face communication has now reduced to being through a screen (and miles away), so make sure you can get as HD as possible! If you're on a conference call or a recorded webinar, it's also a good time to get some of those #selfie skills to work. Yes, I'm talking about adjusting angles to avoid a nosecam situation.
Position: Avoid harsh lights on your face to eliminate overexposure on camera. Face the windows so you get that natural glow—if you can't, just make sure the direct lights are soft rather than blinding.
Background: Busy backgrounds might be too distracting for others, and you always want to stay away from private areas of your home that you're uncomfortable with sharing, especially if you're being recorded on a sales call. If those places aren't accessible, you can always set a fun virtual background and make it look like you're chilling on the beach!
Sound: Your computer's built-in microphone and speakers may collect feedback and make you sound like a robot, so we recommend not relying on them. We've already mentioned the benefit of noise-cancelling headphones, but make sure they're equipped with a decent mic with high quality output as well!
Wifi bandwidth: If you're sharing an apartment, make sure other devices aren't hogging the internet bandwidth when you're on a video call. You can check your internet speed to consider whether the current capacity is well-suited to your needs…or catch your kid streaming movies non-stop, which may explain the choppy audio and constant pixelated screens on your calls.
Oh, and in case you didn't notice how battery draining video calls are…remember to always have a laptop charger near you!
6. Light up your workspace
Natural light is a key resource critical to our physical and psychological well-being. Not only does it famously give us Vitamin D, but it also helps us focus and dictates our sleep rhythms.
My apartment is on the ground floor of the building, so I enjoy minimal sunlight. If you're like me and don't have access to natural lighting, top up with artificial light to illuminate your workspace. There are sophisticated considerations on how to optimize home office lighting, from the position of your light source to using light to enhance functionality and ambiance.
7. Let it flow
If you can, set up your office desk near the window. Fresh air activates the brain while polluted air impairs productivity. A fan to circulate the air and keep it from being stagnant will do the trick. Feel like a bit of luxury? Dyson is famous for its quiet and purifying fans.
On the topic of temperatures, most offices tend to attempt recreating the arctic chills. The good thing is, now the control is in your hands. Try and keep your home temperature to 23-26°C (73-79°F).
After I cook lunch, I like to turn on my aroma diffuser. Not only does it provide extra humidity, but the refreshing smell of essential oils helps me catch my second wind so I snap back to focus. A cedar and citrus blend is my absolute favorite.
8. Tidy up for a clear mind
As the queen of decluttering, Marie Kondo, says "Life truly begins only after you have put your house in order". I'm guessing the same goes for the home office?
First, keep your office desk clear of all non-work related stuff (at least during business hours).
It's important to make enough space at your workstation so you get rid of distractions—making sure that everything you need is accessible and easy to find. Remove all the things that don't belong, and try to digitize your documents so they don't take up room. Remember to clean your desk often, and make an effort to keep it up!
9. Personalize and make it yours
Working from home is an opportunity to own your office space, so add your own flair and inspiration!
Without the need to consider others, now's the time to personalize your space according to your unique style. Whether it's hanging personal photos, lighting a candle, or putting up a vision board, at the end of the day it's all about designing an environment that inspires and motivates you at work.
Check out Jostler Vince's vibrant puzzle table that oozes personality! Now that's what I call work-life integration.
Conclusion
The freedom to design your individual workspace is both a privilege and a challenge.
At home, you can control most of your surrounding features, while at an office, it's pretty much curated by your organization. So go wild and have fun with it!
While your home environment now doubles as your office, don't forget to take breaks from it to "make room" for other parts of your life. Go for a mid-day walk in the park to soak up some rays of sunshine and grab a coffee. And don't forget to breathe in deep for some much needed fresh air.